Summers have always witnessed the best times of our lives as a kid. When one thinks of summers, they're reminded of waking up early to birds chirping, the elder ones in the house chattering, and the best feeling of having completed an eight-hour sleep. However, along with the chirping birds, beautiful sunsets, and pleasant mornings, summers also foster the growth of bacteria, increases risks of dehydration, upset stomach, heatstroke, Bacterial infection, etc. It is great if we make sure to eat right and exercise to avoid summer health issues. An increase in fluids in one's daily diet is important to prevent dehydration. Summer drinks and ice creams have been a tradition amongst families and also help to prevent dehydration. Health is wealth and hence, it should be taken care of whilst enjoying summers. Here are some healthy summer tips for you to tackle those rising temperatures, with a replenished skin and physical body.
Hydration is the Key
During these hot summer months with all those heavy sweating and heat. Our bodies can get dehydrated at a very faster pace, and this can cause some serious issues like feeling dizzy, hyperthermia, rapid heartbeat, etc. So yes hydration is the key, drinking loads of water is extremely important as it helps our body to function normally also ensuring good levels of electrotypes in your body. Make sure you drink 8-10 glasses of water daily and don't sip on extremely cold fridge water. It's better to drink water from clay bottles as it keeps water at a cooler temperature. You can refer to the full benefits of clay bottles, here.
Eat Healthy Fruits & Vegetables
We live in a most technologically advanced era where most of us can get all the fruits and vegetables all around the year. But eating those seasonal fruits and vegetables has there own benefits. Even various studies showed that eating seasonal fruits and vegetables benefits us by providing our bodies with the required vitamins and minerals needed for that particular season. For example, orange is a winter fruit, rich in vitamin C which is very needed in winters to tackle cold & cough. Whereas watermelon is summer fruit rich in water and carotenoids which is very needed in summer. So load up your Fruit bowl with fresh Plums, Mangoes, Berries, Peaches, etc.

Downsize & Cooling Meals
In this hot weather, it gets difficult for one's body to digest heavy meals as it takes longer for our body to digest the food we eat. So it's better to go for lighter meals with loads of salad on the side to go with. If you love eating hot and spicy food, then you should stay away from those spicy meals as it may cause hyper acidity and other gastronomical problems. You can load up your meals with more cooling & hydrating foods like watermelons, coconut water, cucumber & mint-infused water, buttermilk, etc. If you love binging on fried foods then its best to avoid it and go for a lighter snack option such as trail mix, granola bars nuts, etc.?¿
Choose Fruit Juice Over Drinks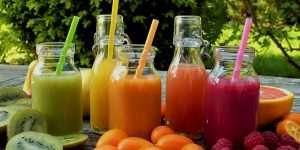 Summers are the time we love drinking and filling our bodies with all those yummy liquids we can lay our hands-on. But its always way better to have fruit juices instead of drinking those carbonated drinks which are high in sugar and calories. Fruit or vegetable smoothies are a great way to be healthy in summer but you should also try to look out on those healthy smoothies. Many a time those smoothies are decked with ice creams and heavy yogurts which are high in calorie content. A great option for this is to grab on to a bowl of a healthy vegetable and fruit mixed smoothie, which is low on sugar.
Take Cold Showers
Summer is a season where is everything is great except for those unwanted prickly heats and bacterial infection. So it's better to keep hygiene our next priority after keeping our bodies hydrated at all times. Showers play a crucial role in reducing our core body temperature and making you feel refreshed. You can also try washing your hands & feet with cold water before going to sleep. A cold shower doesn't only prevent potential growth of bacteria but also refines one's skin and hair, stimulates weight loss, and improves immunity.